Discover the beauty of Sicis Jewels exquisite creations. Sicis Jewels unveils its latest masterpieces, where micro mosaics merge seamlessly with precious gemstones to craft captivating and avant-garde designs. These jewels are nothing short of extraordinary, captivating with their mesmerizing brilliance of colors, intricate details, and extravagant effects that exert a magnetic pull. The question arises: how can rivulets of color flow around gemstones like liquid, diamonds meld seamlessly into the graceful contours of a panther's fur, or flowers appear so astonishingly lifelike? The enigma behind Sicis' awe-inspiring techniques captures the imagination like few other jewels.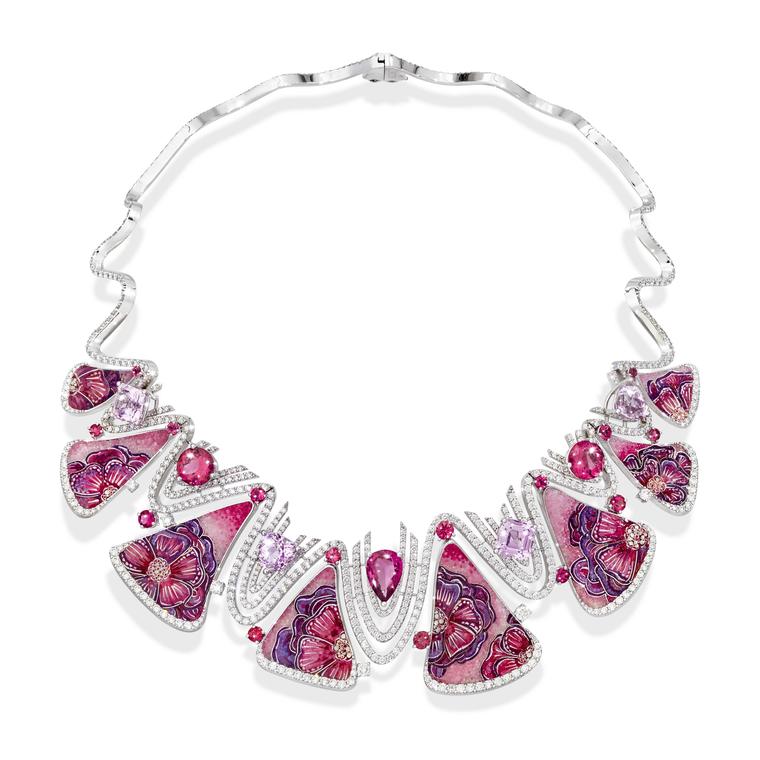 At first glance, one might assume these beguiling effects are achieved through enamel work, yet that's not the case. These miniature marvels are meticulously crafted using micro mosaic tiles or tesserae, painstakingly arranged to create an array of captivating effects.
At the core of every Sicis jewel lies the art of creating tesserae. Sicis Jewels has patented a technique for crafting these jewel-like tesserae from a fusion of 10% silica and 90% precious minerals, including diamonds, colored gemstones, and even gold. This blend is subjected to temperatures of 1,400º centigrade, resulting in a kaleidoscope of colors. The molten blend is then hand-shaped into rods, which can be manipulated into various forms. These tesserae are meticulously cut from these rods, ready to be placed into each small-scale work of art.
Read More : Five reasons to choose natural diamonds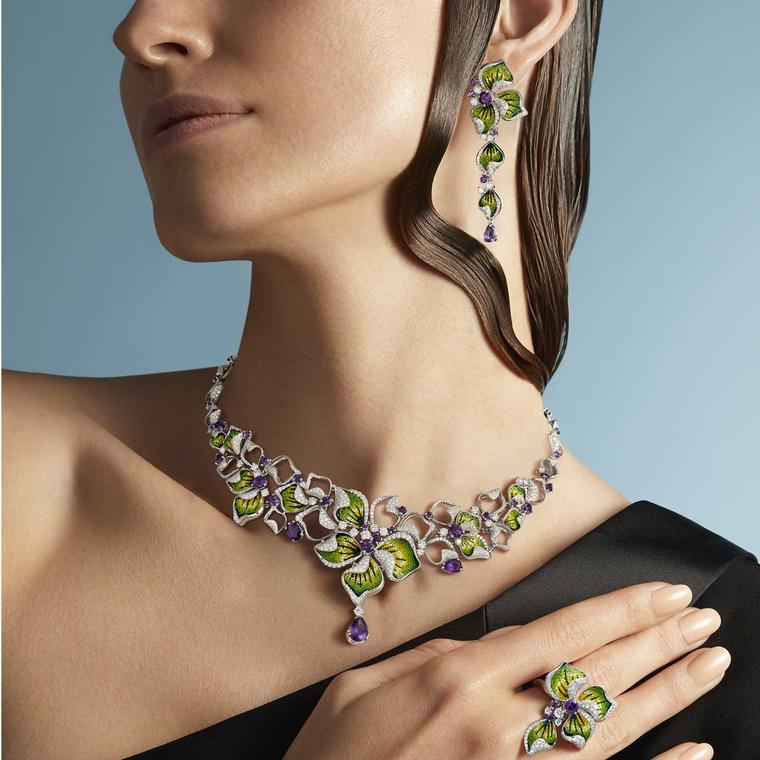 A closer look at the recent arrivals unveiled in March in Geneva showcases the intricacy of Sicis' craftsmanship. The high jewelry Incanto necklace, for instance, represents one of the most intricate creations. This necklace, constructed from white gold adorned with diamonds, cradles light pink kunzites and vibrant rubellites within its looped structure. Within these loops, one discovers miniature micro mosaic 'paintings' depicting mauve and pink flowers, each petal so finely detailed that it appears almost capable of fluttering in the breeze. Gold thread outlines the micro mosaic flowers, enhancing their opulence and adding a three-dimensional effect. A keen observer will notice the use of tesserae in various shapes—round, rectangular, triangular, and semi-circular—much like an artist's brushstrokes. Of particular note are the two-tone circles known as giacchette, their creation requiring the synchronized efforts of two micro mosaic artists. Slicing these circles reveals concentric rings of captivating color.
Read More : Five reasons to choose lab-grown diamonds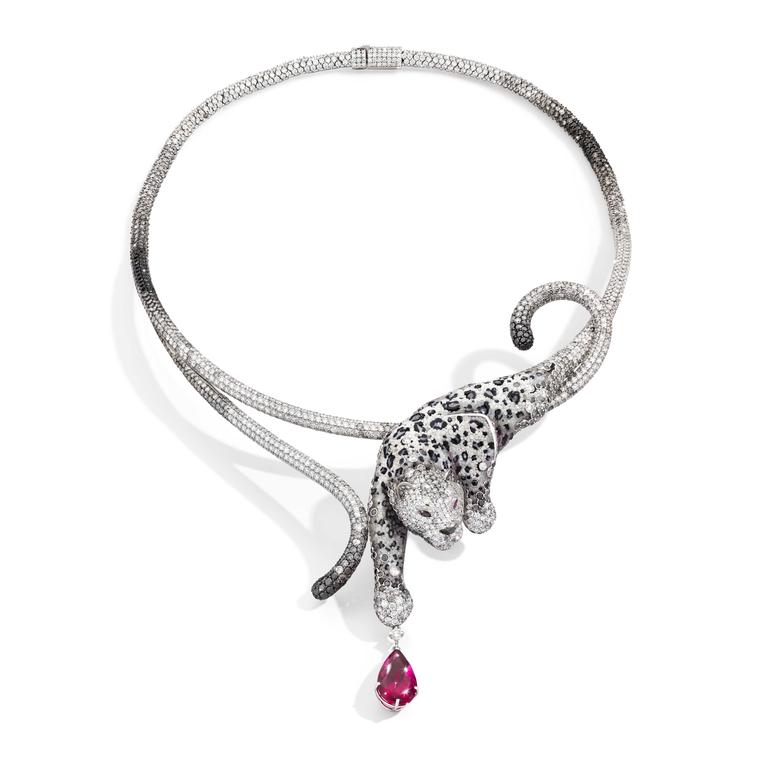 The brand-new Iris Mauve high jewelry necklace takes inspiration from flora but interprets it in a distinct style. This necklace forms a shimmering garland of delicate iris flowers that cascade gracefully around the neck, as if freshly plucked from a woodland glade. Each lifelike petal is adorned with nearly one hundred tesserae, painstakingly crafted from ground jadeite for the green hues and a mix of jadeite, citrine quartz, and yellow sapphire for the lighter shades. The petal tips glisten with white diamonds, and where they curl, a diamond pavé delicately emerges. Like dewdrops, glossy diamonds and amethysts adorn this naturalistic tableau.
The Damisa Ice high jewelry necklace represents one of Sicis Jewels' signature creations, harmoniously fusing craftsmanship and audacious design. This 'Ice' iteration pays homage to the Damisa, named after Tanzania's native leopard, renowned for its elegance and distinctive markings. This version features a panther, its grace and majesty meticulously portrayed through a dazzling composition of diamonds and micro mosaic, a labor-intensive process taking over 400 hours to complete. The black and white pattern of the leopard's fur is replicated with exquisite detail. The diamonds, flush with the tesserae's surface, seamlessly merge into the fur. Two rubies serve as the panther's penetrating eyes, and from its paw dangles a captivating rubellite drop.
Gemstones assume a central role in the Tesserae range, where impressive stones are enhanced by micro mosaic motifs. The LifeRound ring, a one-of-a-kind design, boasts a jacket set with micro mosaic surrounding in the form of stylized flower petals. The centerpiece is a 9.7-carat tourmaline solitaire that can be worn independently or with the jacket to transform the ring's appearance.
Launched in 2022, the Ribbon collection continues to expand with new color variations. The Green Ribbon, for example, features a peridot at its heart, intensified by the blue and green micro mosaics. The ribbon is artfully tied in a loose bow and adorned with a highly detailed peacock feather pattern, brought to life by giacchette tesserae. The ribbon's flowing lines belie the intricacy of setting differently shaped tiles into its undulating surface, creating the illusion of printed silk. Blue sapphires trim the edges, while tsavorites entirely blanket the ribbon's rear.
Since 2014, the butterfly has become the most iconic design from Sicis Jewels. This kaleidoscope of butterflies mirrors the diverse effects achievable through various patterns and permutations of colors. The Pearly Eye Nymphalia butterfly stands out for its breathtaking realism, meticulously replicating the insect's delicate markings. Sicis achieves this by employing a wide spectrum of hues and shapes of tesserae to mimic the colored powder dots on the butterfly's wings. Giacchette tesserae are particularly effective in recreating the characteristic 'eye' markings of the Pearly Eye Nymphalia butterfly.
To comprehend the techniques mastered by Sicis Jewels is to gain a deeper appreciation for the value inherent in each jewel. Liberated from the constraints of traditional jewelry, tesserae offer an almost boundless palette of colors, textures, and tones, seamlessly combined with gemstones in a state of perfect yet unexpected harmony.